One of my wonderful, repeat customers,
Reshma of AhKriti
has blogged today about my beads
here
. Reshma makes really lovely jewelry and I am proud that she finds my polymer beads worthy of her work. It is very exciting for me to see how jewelry artists use my work. I often don't see that because many times people who buy my beads are collectors and just hold on to them. Which is fine too!
It was Reshma who wanted beads with a decidedly Indian twist and she requested beads with paisley designs. Back when I was in college and high school, paisley was all the rage! I still remember all those wonderful Indian bedspreads we had all over our dorm rooms with the colorful paisley designs. But that was quite a while ago and I hadn't really thought about paisley since then. But Indian design still uses lots of paisley. I had a small paisley design stamp that came with one of my stamp sets but it was really too tiny. I wanted something a bit larger. So I found a set of rubber stamps that had a mix of designs and cut out just the paisley part I wanted. I cemented it to the end of a
dowel
and it worked perfectly. I added some floral stamps to the design and they really look nice as you can see from the photo.
Reshma also has a very different color vocabulary from mine and so she really took me out of my comfort zone with both design and color combinations. I am really happy with the work that has come out of this collaboration from her custom orders and I always look forward to working with her!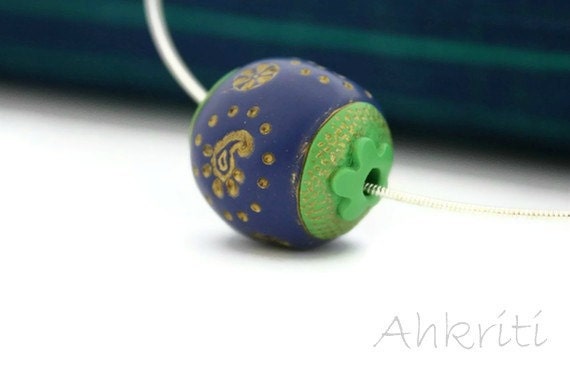 http://www.etsy.com/shop/ahkriti